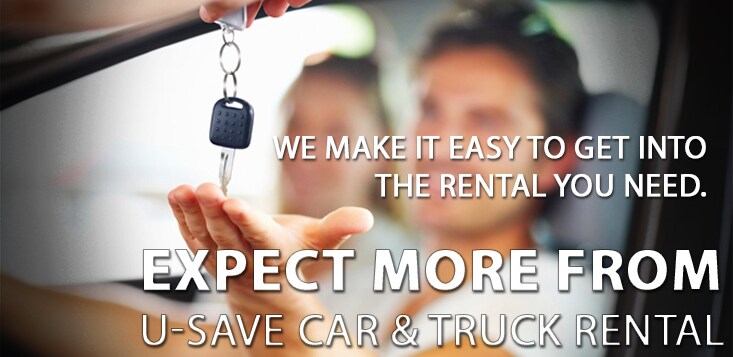 Welcome to your locally owned and operated U-Save Car and Truck Rental Agency, located in Bryan College Station, TX, home of Texas A&M University.  We make it easy to get into the rental you need.  Our approach is rent-a-car service that costs less but doesn't cut corners on service. Coming in from out of town?  No problem, we provide Concierge Service to and from Easterwood Airport.  It's easy to make your U-Save reservation online.  Or call one of our friendly, knowledgeable Bryan College Station, TX auto rental agents to make your rental arrangements during normal business hours.  Find out how easy it is to take advantage and reserve your rental now. We are your local car rental near college station and bryan. 
For business, vacation or to get around town while your car is in the shop, your Bryan and College Station U-Save Car & Truck Rental will get you there for less. It's easy to book your rental online.  Select your dates and view the rental options.   Or if you have questions, contact one of our auto rental agents and we would be happy to help you with your rental arrangements.  When you work with us, you can expect exceptional customer service inspired by the U-Save mission statement, "Earning the right to serve you, each and every time."
We are your local car rental near college station. Come and see your college station and Bryan car rental agency next time you need to rent a car!
We also serve the Navasota area so if you are looking for a car rental in Navasota then give us a call!